Bret Kaiser - Lead Vocals
Bret Kaiser's musical career has taken him from New York to London via Hollywood and back again. A veteran performer, Bret's powerful vocals garnered him a gold record in 1984, when he fronted '80's MTV metal band, Madam X.
Tours in the U.S. & England brought him back home to New York for a much needed break from Madam X. in 1986, he formed KAISER.  With a large regional following they re-emerged as the Bowry Boyz, touring the U.S. as a Budweiser Concerts band into the mid '90's. It was during this time touring that Bret made his first 'pilgrimage' to Memphis. Even then, while playing in a Rock club in Memphis., Bret sang several Elvis tunes despite fronting a metal band. 
Today, Bret is still rocking with the original Madam X, and frequently appears on stage sporting stylized evening jackets, strutting and spinning with a mic stand.  Sometimes, you can catch him in a departure performance that pays homage to the crooners called 'An Evening With Bret Kaiser' or in a bejeweled jumpsuit doing his 'Forever Elvis' tribute show. But, most know and love him these days as the face & voice that fronted '56 now reformed as Bret Kaiser's "The'56tees".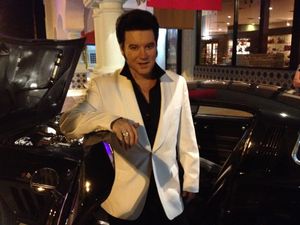 Bret Kaiser's "The '56tees" - Rock Apache Junction at the Golden Vista RV Resort!!! Call (480) 671-2000 for info
Bret Kaiser's "The '56Tees" come to the Cottonwood Country Club to Rock n Roll the only way they know how...56Tees style playing all the favorites from The 50's and 60's